Presentation 2015: Greece Deluxe
25 February 2015
Travel Connections is happy to host a presentation on luxury Greek Hotels featuring: Starwood Hotels & Resorts, Grecotel Resorts, Helios Hotels & Resorts and Ambotis Tour Air Service.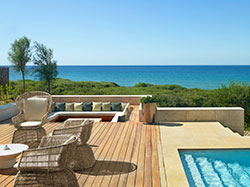 Starwood Hotels & Resorts is one of the biggest hotel chains, which guarantees its clients superior quality services. In Greece there are 10 complexes of hotels and resorts, that belong to such btans as Luxury Collection Hotels & Resorts, Westin Resorts & Sheraton.
Starwood Hotels & Resorts includes such hotels as: Hotel Grande Bretagne, a Luxury Collection Hotel & King George, a Luxury Collection Hotel in Athens;The Romanos, a Luxury Collection Resort, The Westin Resort Costa Navarino in Messinia and Sheraton Rhodes Resort in Rhodes.
Grecotel is the leading, largest hotel chain in Greece with 30 luxury hotels & resorts. Grecotel is a collection of Greece's finest resorts, each individually designed and crafted, inspired by its own supreme beachfront location. Grecotel luxury Hotels & Resorts are located in Crete, Athens - Attica, Mykonos, Peloponnese, Corfu, Rhodes, Kos, Kalamatta, Chalkidiki, Larisa and Alexandroupolis.
Hotel chain Helios Hotels & Resorts has been a symbol of elegance and exceptional service quality, for more than 3 years.
Hotels of the chain are remarkable for their unique location and for the highest standards in each and every aspect of services and accommodation provided.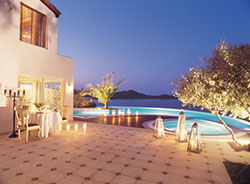 Collection of 7 hotels has repeatedly been given prestigious awards. Collection includes: Elounda Beach Hotel & Villas, Elounda Bay Palace, Kalimera Kriti и Kernos Beach, located on sandy endless beaches of the Crete Island;in Amphytrion and Nafplia Palace; in Peloponnesus and in Athenes.
Ambotis Tour Air Servise is a Greek tour operator, existing since 1993. Ambotis provides a full range of services in tourism: Inbound & outbound tourism, guided tours, organization of kid's leisure, pilgrimage tours, shopping tours, medical tourism and insurance, VIP and MICE services.