Stademos Hotels, hotels, Cyprus
Stademos Hotels, hotels, Cyprus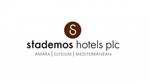 www.stademos.com.cy
Hotel Group, Cyprus
Stademos Hotels PLC has established itself as a leader within Cyprus' hospitality industry. Leading the way with its three distinctive properties, which are among the island's most upscale, Stademos has become known for offering excellence in service, whereby at the same time exceeding its guests expectations.
It does so by ensuring that each hotel adheres to the group's time-honoured values of hospitality and dedication to the customer, but also by embracing change and evolution. In this way, the Stademos hotels have uniquely merged traditional elegance with the exhilarating flair of modernity and innovation.
Each of the three Stademos Hotels properties embody the true essence of Cypriot hospitality. They include the four-star Mediterranean Beach Hotel in Limassol, the five-star Elysium hotel in Paphos, and five-star, Amara hotel, soon to open its doors in the Amathus area of Limassol.
Though all properties are run by the same common philosophy, each one proudly commands an exclusive space within the market, boasting its own unique identity.